Marketed as "power your education empire", Thinkific boasts presence in 190 countries and $340mm earned through the platform. The emphasis of Thinkific is on teachers creating their own websites to promote and sell their products and classes. In essence, instead of having to learn programming or hire web developers, you can join Thinkific and make your own website, eliminating the technical hurdle for your business' growth.
Does that work in practice? How is this platform different from all the other course-selling platforms? Let's take a look in this Thinkific review.
Thinkific Features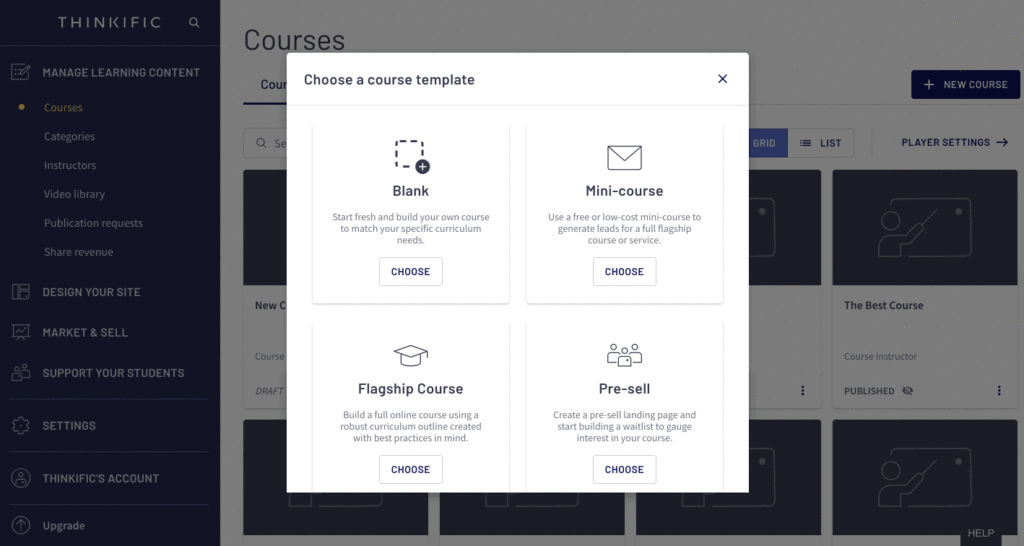 The main feature of Thinkific is the ability to set up different templates. You can optimize and micromanage each website type to fit whatever course structure you have.
You can also offer one of four payment plans:
free
one-time payment
monthly subscription with a limited free trial
monthly payment plan
Site Builder
Build webpages and completely customize them using drag & drop page sections. Use a custom domain to link up to your pre-existing website and create a cohesive brand experience.
Site Themes
Themes take the guesswork out of website design, though you might want to work on further developing one yourself to avoid looking like your competition.
Course Creation Workbook
A gratis PDF file helps you set up a course straight away. To-do checklist with external links lets you integrate a payment processor with your course, create coupons, mark parts of the course as free of charge and so on. Thinkific suggests structuring your offer around your flagship course, which could be a downside if your course isn't glitzy enough.
Student Progress Dashboard
Built-in dashboard lets you track each student's progress separately and manage revenue streams. Options are sorted in four categories:
site design
learning content management
marketing and selling
student support
Prerequisite Quizzes with Random Questions
Quizzes can be made to randomly draw questions from a pool. They can also be made a prerequisite, with a customized error message if the student tries skipping one. Each quiz can be made to require a passing grade before the student can move on.
Drip Schedules
Courses and lessons can be automatically released on a date that suits you, which simulates the fast-paced academic learning environment.
MailChimp and ConvertKit Integration
Create mailing lists and track subscriber events using the two tools.
Media Hosting
Membership bundles can include downloadable resources, such as e-books or media files.
Completion Certificates


When a student completes all the lessons in a course, he or she can receive a certificate of completion. The higher your academic credentials as a teacher, the more weight this certificate will hold.
Thinkifc's Built in Marketing Features
Customizable Free Trial
The monthly subscription plan lets you define a custom free trial period and a custom amount to pay as the first monthly fee.
Limited Enrollment Duration
One of the payment options lets you set up time-limited access to your course, which helps incentivize engagement. The minimum is 60 days to avoid chargeback issues.
Affiliate Payment Management
The marketing and selling dashboard category on Thinkific lets you see pending payments to your affiliates and approve or deny them.
Lead Generation
You can draw in new students by offering free or discount courses, but you can also create and manage waitlists to build up hype. Thinkific suggests a host of smaller courses that will funnel students into your flagship course. You can also set up collection of email addresses to stay in touch and send out newsletters.
Pricing for Thinkific Platform
Thinkific offers four pricing plans, which are 20% cheaper when billed annually: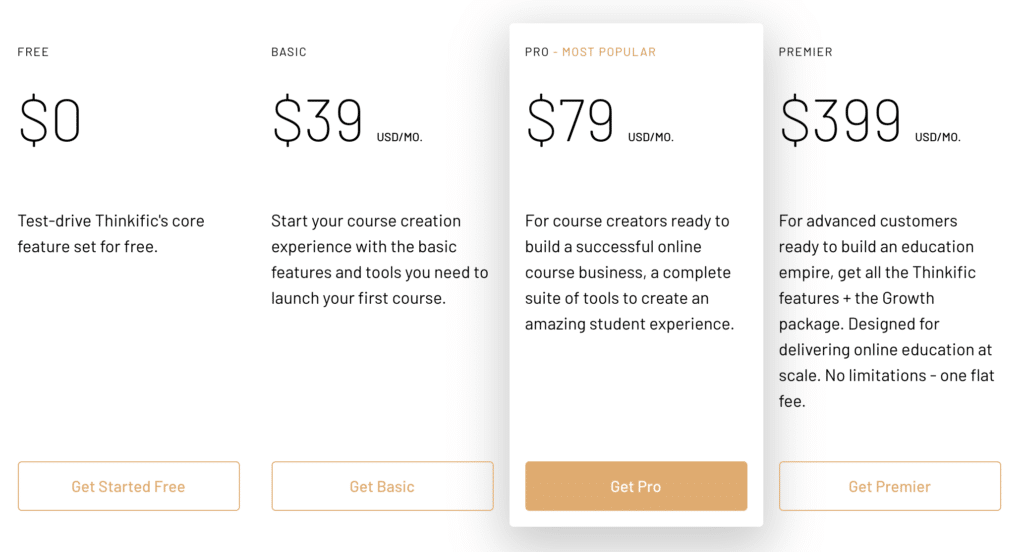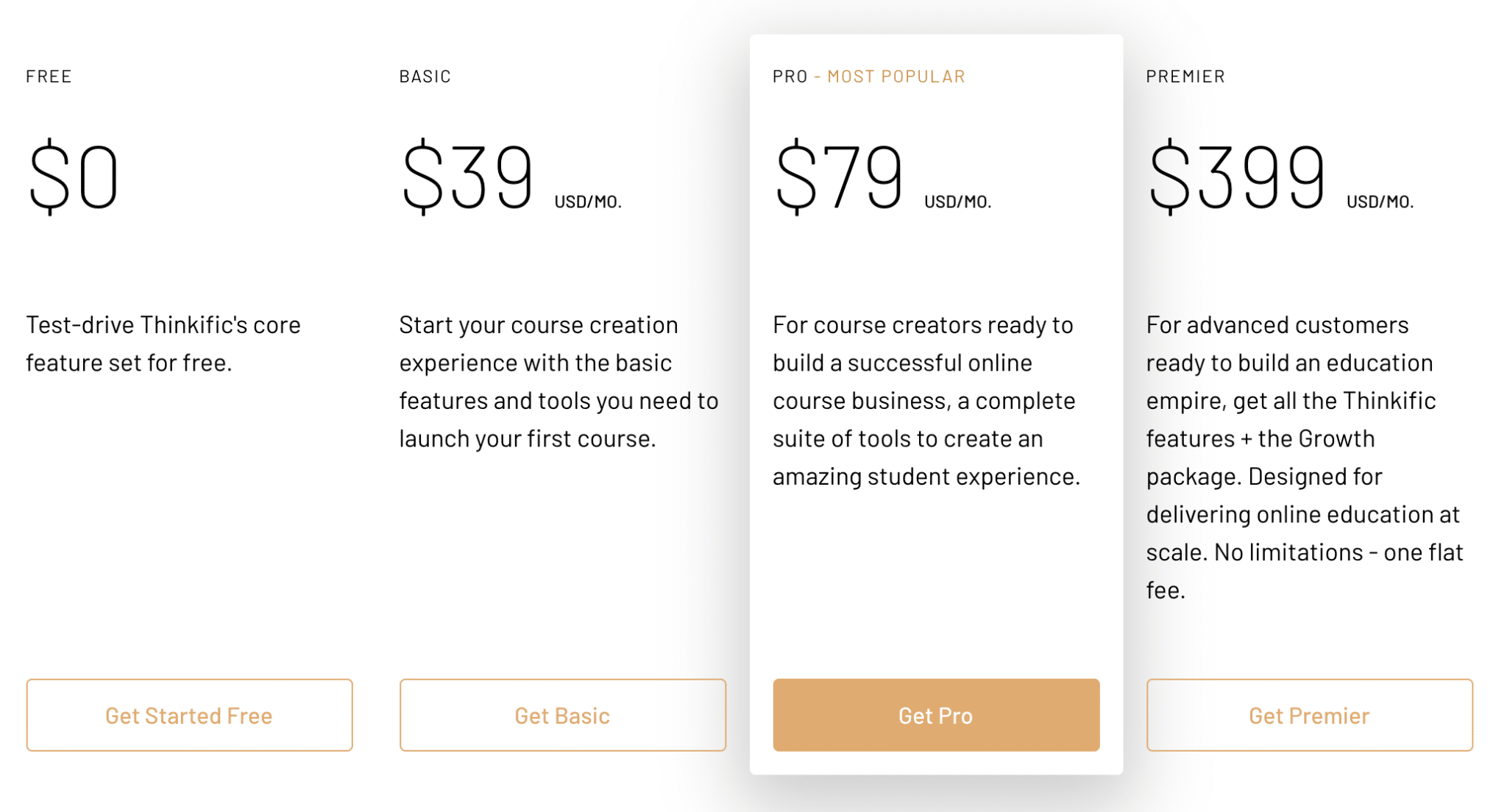 Free plan costs $0 and does not require a credit card. It comes with website and course builders, choice of language, full payment and e-commerce capabilities, access to forums and email and phone support. You are limited to 3 courses but can have unlimited students across them.
Basic plan costs $49 a month or $39 a month when billed annually. It includes all Free plan features plus drip schedules, coupon creation, Zapier integration, affiliate reporting, emailing students one by one and a custom domain. The course limitation is lifted on this plan.
Pro plan costs $99 a month or $79 a month when billed annually. All Basic plan features are included, with the addition of certificates, hidden courses, CSS/HTML customization, community creation and live Zoom sessions. You have priority support access and can use advanced pricing options alongside bundles, issue assignments and add administrators.
Premier costs $499 a month or $399 a month when billed annually. All Pro plan features are included, with up to 50 course admins/authors, 15 group analysts and a single-sign-on.
Growth and Plus are two hidden enterprise-level packages that allow you to customize any aspect of your plan. Need 25 admins that can only access a certain part of a website? That can be arranged, for a price.
All pricing plans have a 30-day money back guarantee and include video hosting, Javascript tracking and a Shopify app.
Thinkific Pros and Cons
Pros of Thinkific:
Thinkific offers ready-made class creation, marketing and website development. The main selling point is a convenient dashboard for management of students, classes and course materials. Quizzes, presentations, exams and even Disqus round tables can be used to foster a learning environment.
Cons of Thinkific:
There is a cookie-cutter look and feel to all the websites and courses made through Thinkific. You could make them stand out a bit more, but that would take a lot more fine-tuning, which means web development. Also, the emphasis on a flagship course can be a downside if what you're offering is a niche skill and you don't have any credentials to draw the students in.
Thinkific is a solid solution for academics but I think it also holds a lot of hidden value in easing niche teachers into learning web development. You don't have to be an expert web developer or designer but if you're eager to learn those two, you'll extract much more value from Thinkific than a garden variety user.
Final Thoughts
When I look at Thinkific, one word pops into my head—safe. Everything about Thinkific is designed to be as low risk as you can imagine. That's not necessarily a bad thing but it does limit what you can accomplish with the platform. If you like taking chances, doing quirky stuff or just experimenting with your courses and websites, I think you'll be frustrated more than enthused by your income through Thinkific.
The platform also downright fixates on what it calls "flagship course". This would be a glossy, polished, high-brow course of yours, which I imagine would cover something like psychology, economy or other academic pursuit. Don't have credentials to produce such a course? Perhaps you're the world's foremost basket weaver but that simply doesn't hold the same authority as "PhD" and would again limit how much you profit from Thinkific.
If you're a credentialed, highly respected academic who wants to establish an education empire as an income stream, you'll fit right in with Thinkific. The websites and courses it helps you produce are foolproof and decent-looking, if a bit bland and generic. Randomized quiz questions and automated grading are two more hints that Thinkific is meant for actual academics providing courses to interested students, not just any teachers.
You're not likely to net any significant income from selling courses through Thinkific if you're a niche teacher but I do think the platform still holds value for you. The fact it offers a free pricing plan means you can tinker with the platform and experiment. In that case, Thinkific's safety works for you and provides you with a safe environment, where you can learn and experiment to your heart's delight.