There are many different platforms out there that I would like to cover in-depth, so you can find the right learning platform for your own eLearning course. In this article, I am going to talk about Podia.
Originally, Podia is a kind of platform which aims to do coaching. It started with the name "withcoach" then developed into a full-featured platform that is user-friendly for selling and marketing your courses, digital downloads, and memberships in one space. The interesting thing about Podia is that it doesn't require the use of third-party plugins to have everything you need.
Podia Features
Free Migration
The biggest thing that Podia has going for them is the free migration of your current content from any platform to Podia. This means they will move your current content for you into their platform for free. That is pretty great for people who don't have the time to transfer existing content and courses into a new platform.
Build your Site
Build your course site from scratch without using pre-made themes to sell your content. Podia also offers unlimited hosting, which is great.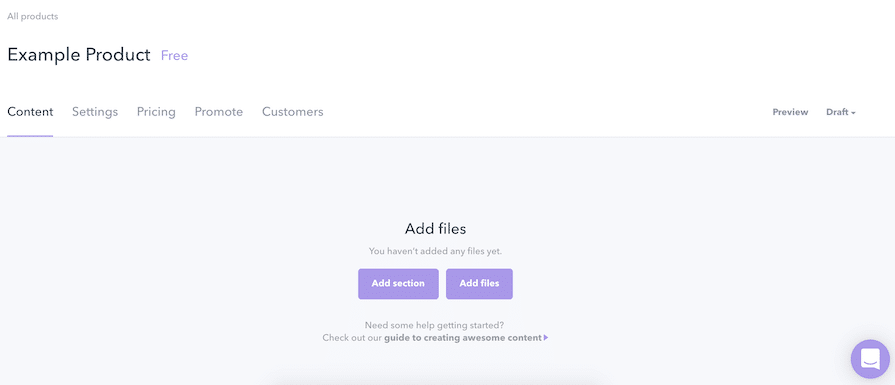 Integrations
Use Google Analytics, Facebook Pixel, and more.
Customization
Change your layout to suit your needs, add your logo and colors so your site can stay on brand, upload any text, testimonials, images, PDFs, audio, and videos. And add your own custom URL. Choose from over 11 languages and 22 currencies for your online courses.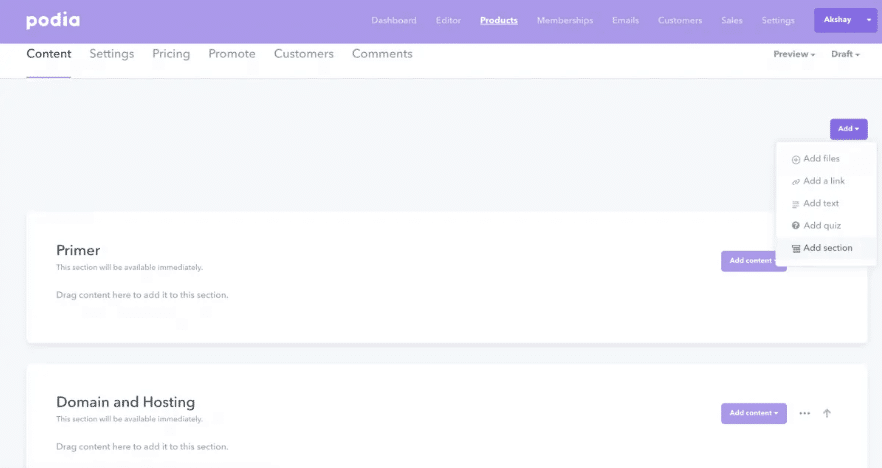 Drip content
You are able to choose what your students have access to and allow them to purchase it over time or immediately buy your courses.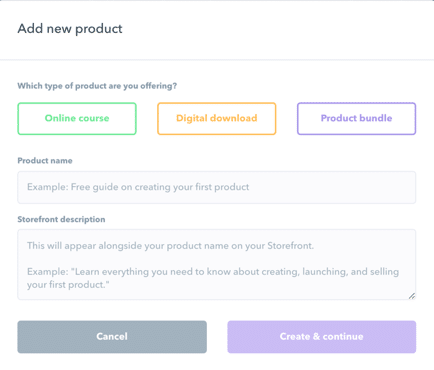 Pre-launch courses
Pre-sell your courses before they are available online and set a start date for the future course.
Quizzes
Add interactive quizzes at the end of your course modules.
Unfortunately, Podia lacks important eLearning tools like assignments, course compliance, graded quizzes, and certificates.
Membership Posts
Offer membership-only content, and control which membership plans can see specific content.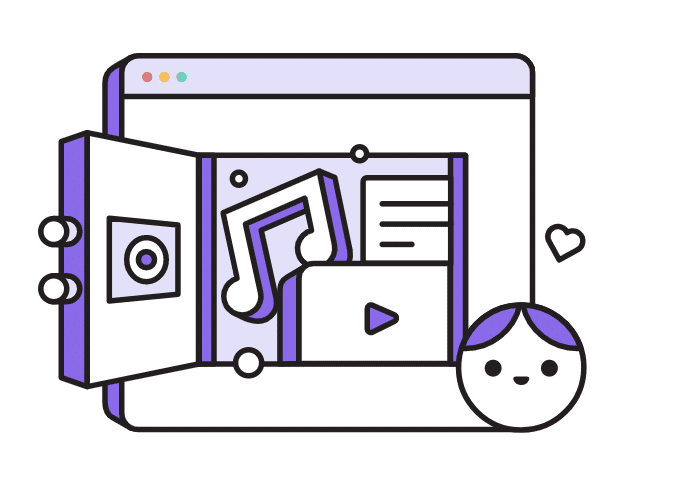 Member Discussions and Blogs
Engage with your students but allowing them to discuss and comment on your course. Create a blog to post updates and share information.
Social Media
Connect to your Slack Channel or Facebook Group so your students can comment and discuss your content. Send newsletters, create drip email campaigns, and segment lists.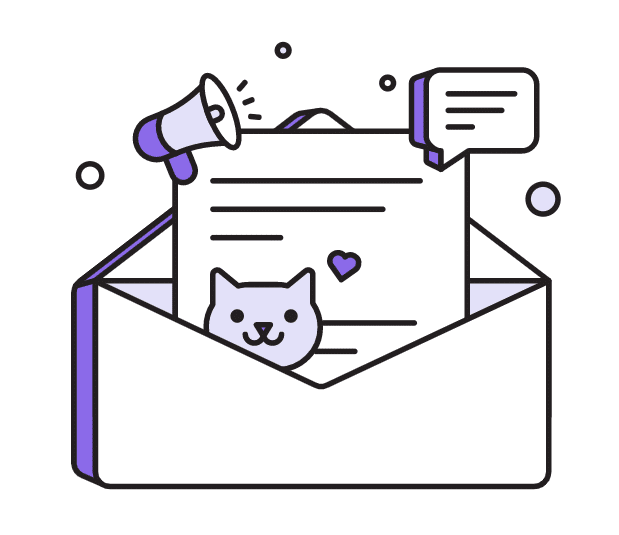 Messaging
Surprisingly, Podia has an integrated live chat, which is usually only available via third-party plugins for eLearning platforms.
Plug-ins
Even though Podia doesn't need any extra plugins, but they currently have plugins with Zapier, MailChimp, ConvertKit, ActiveCampaign, and Drip.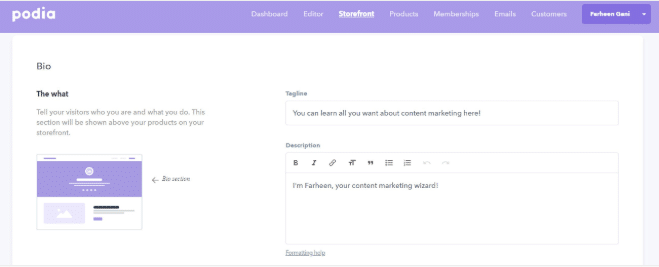 Selling your Online Course with Podia
One thing I like about Podia is that there are no transaction fees taken by Podia for either plan.
I also like how there are no limitations on how many courses you provide or the number of students you can have. Podia really is a platform that is a jack of all trades, providing you with everything you need without plugins, but perhaps not to a perfect extent.
Podia does a fairly good job of selling and marketing your courses. Podia allows you to create a very targeted sales campaign with segment lists. Another great feature is that you can offer upsells, and promote with basic email marketing. Overall, Podia has a checkout process that is simple and easy to use. You can also allow your students to pay for courses with monthly installments and pre-sell your courses before you even release them. Bundling courses can also be a great option you are able to provide for your students.
However Podia is lacking in these specific selling features: Offering Paypal as an option for memberships, using a proper checkout page apart from a pop-up, multiple pricing options for normal courses, offering flexible pricing options to your students including a free trial and subscriptions.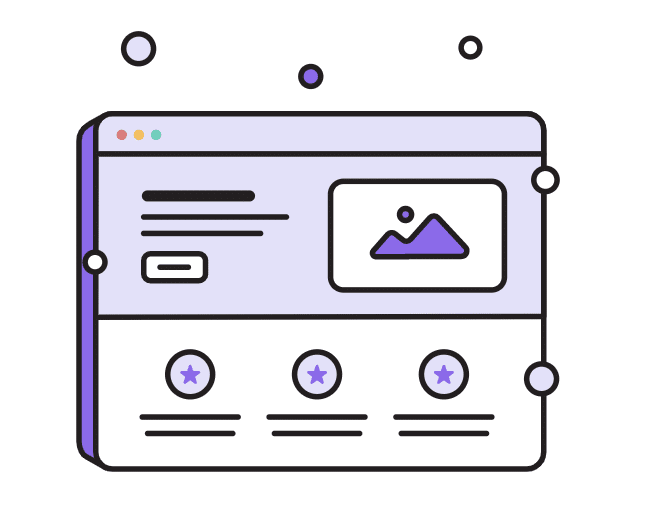 Pricing for Podia Platform
Podia does offer a free 14-day free trial, with no credit card required. But there is no actual free long-term plan for Podia.
Mover Plan: $39 /month (Save $78 when paid annually)
Shaker Plan: $79 /month (Save $158 when paid annually)
You can check their site regularly for changes in pricing.
Pros and Cons
Pros: Podia is very easy to use with a refined interface, and seems to have great customer support for users. The simplicity of the platform is great for anyone with little to no tech experience to get their content online as soon as possible for their student. It is not necessary to add any plugins for this platform, but you have the option of doing so. And let's not forget the free migration of your current content from any platform to Podia.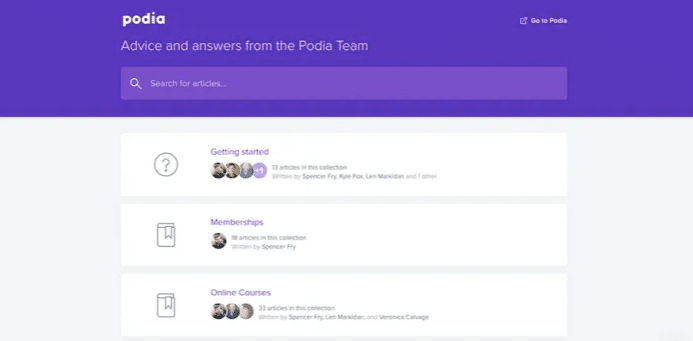 Cons: Podia doesn't offer a free plan, which can be kind of a bummer for people who need to rely on a free plan until they get their business up and running. There seems to be a lack of customization options for more experienced tech users, like allowing users to customize with CSS for example. Some other more simple customization settings are lacking, for example, reducing white space between text or changing text sizes. It seems you cannot do a few simple things like directing your customer to a thank you page that is a customized page before directing them to their purchase. Also, it seems you are unable to personalize emails to your students, a common complaint about most eLearning platforms.

Podia is extremely simple to use, and anyone who is not tech-savvy could use this platform to sell their courses. However, I would not recommend it for those who are a bit more experienced and want to customize their online program and have a ton of features and options. In fact, Podia is so simple, you can use it right away, with barely any tutorial. However, I don't feel that Podia is the best choice for eLearning, as I pointed out before Podia is missing certain eLearning tools like assignments, course compliance, graded quizzes, and certificates. However, I would recommend this platform for anyone starting a course who is not the most technically inclined person.